May 2022
We are pleased to receive photos of our ongoing work ensuring the children get enough protein and vitamins in Phan Khar Gone Village.
Myanmar Coup daily updates – please see Media Articles for further information
WHAT YOU CAN DO TO HELP SUPPORT DEMOCRACY IN MYANMAR….
Ask your MP to help support democracy in Myanmar. Find your MP and adapt our sample letter. Please also copy it to Lord Ahmad of Wimbledon, the Foreign and Commonwealth Minister for South Asia and the Commonwealth at ahmadt@parliament.uk .

For those with evidence of serious atrocities in Myanmar, see this United Nations contact:
.
UK to Myanmar 2021 – we walked there and back, raising a fabulous total of £2738.64 to date! Thank you, everyone!
Inspirational Videos to give us hints, tips and whet our appetites!
John & Tricia Duffy – The West Highland Way
Gerry McPartlin – The Scottish Munros in a Year
James Gallois – Camino de Compostela
New Team Name Cloud! See all the information on our UK to Myanmar Facebook page.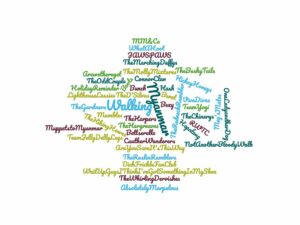 Newsletters to give us the latest information and lowdown.
Sunday, 14th March 2021
We've finished the miles!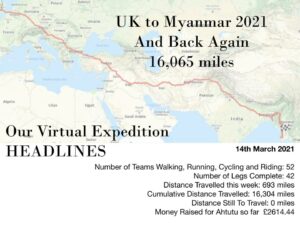 Sunday, 7th March 2021
Headlines for no 8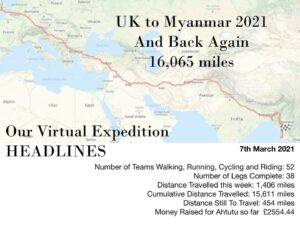 Sunday, 28th February 2021
Just a news sheet for no 7.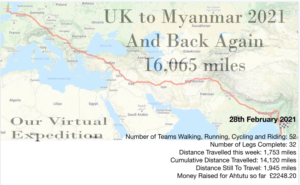 Sunday, 14th February 2021
Number 6 for your delight and delectation!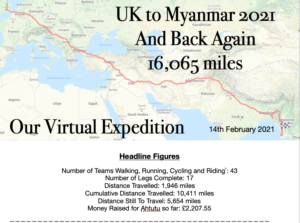 Sunday, 7th February 2021
Newsletter 5 hot off the presses! You know what to do!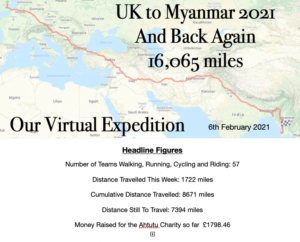 Sunday, 31st January 2021
Here we go! Newsletter 4! Click on the pic!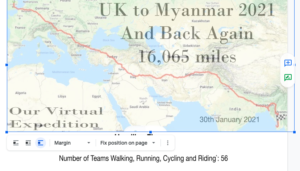 Sunday, 24th January 2021
Newsletter 3 is here! We're a quarter of the way through our return journey!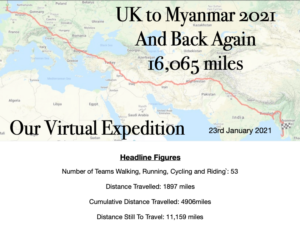 Sunday, 17th January 2021
Newsletter 2 – Click to have a look!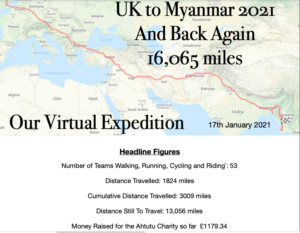 Sunday, 10th January 2021
Thank you from the bottom of our hearts! We have had so much interest we have added on a further 30 legs and are walking back from Myanmar again!
Click on our fab first newsletter to read it!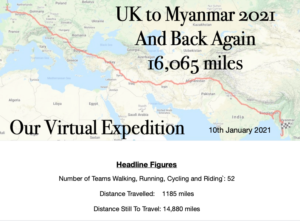 Sunday 3rd January 2021
Today we are launching our UK to Myanmar 2021 challenge. See all the information on our UK to Myanmar Facebook page.
Roll up all those miles we're doing in our local area during lockdown towards a virtual journey to Pathein! GOOD LUCK!
____________________
Covid -19 hit the UK and Myanmar in March 2020 and the first and second waves of the virus have put paid to plans for a trustee visit and to our January 2021 teaching trip.
We pray for our friends here and in Myanmar. KMSS workers are operating from homes and hostels instead of the office, supporting the people of the Ayeyarwady with PPE and teaching them how to keep themselves safe.
See also Ahtutu's Facebook Page for news and information.
Please consider raising funds for us via Easyfundraising and Amazon Smile. With just one click of the desktop reminders all of your online purchases can support Ahtutu without any extra donation or effort from you. Thank you!
See our new Days for Girls Leaflet! Please help!
FORTHCOMING EVENTS
3rd – 21st January 2022
Our next teaching trip. Many plans are afoot. Please contact us if interested.
NEWS UPDATES
11th November 2020, 5pm
Our first Trustees meeting since lockdown.
4th – 15th January 2021 – cancelled due to Covid-19 Lockdown
Our next teaching trip, including the planning of a theatre production at the end of our teaching fortnight.
25th April 2020 – cancelled due to Covid-19 Lockdown
Our lovely friends at Ely Methodist Church are holding a coffee morning in aid of Ahtutu. Thank you, Catherine, Johanna and all. 13 – 15 Chapel St, Ely CB6 1AD.
22nd February 2020
Fabulous February Fling – £513 raised in total. Wow! Thank you, all.
14th January 2020
Burma Storybook, Tuesday 14th January 2020 at Shekinah Hotel, 7pm. Wonderful event. 77 people came along to the screening, kindly supported by the Shekinah Hotel, including Lo Ma Nyein Chan, Saya Maung Aung Pwint's daughter, her husband and her son, all of whom appeared in the film. All attending were privileged to be given a copy of a book of poetry, published in commemoration of Saya's death in May 2018. His wife had very sadly died three months previously. I think there was not a dry eye in the room as we watched this gentle, beautiful, thought-provoking film, aware that the family of this lovely man was present with us. A night to remember always.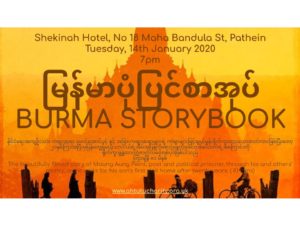 14th December 2019
Saturday Traders' Stall for Ahtutu at Ely Market. Roll up, roll up! Come and find out more about DfG Kits, Grifaid Filters and all we do in Myanmar! Christmas goodies on sale. £285 deposited.
7th December 2019
Making shields this time at our DfG KIT day. Thank you, everyone.
Saturday, 23rd November 2019
Ahtutu Stall, Raffle and Tombola at The Maltings prior to, during the interval and after Witchford Choir concerts, 2pm and 6pm. In excess of £500 deposited between these events and raffle ticket sales at St Etheldreda's. Final amount tbc after public raffle draw on 30th at 9pm.
Saturday, 2nd November 2019
Successful DfG Kit Day. Four new members came to look at what we were doing and plan to join us in December.
Friday, 1st November 2019
Another opportunity to see the superb Burma Storybook at Ely Methodist Church at 7:30pm was well attended. Our thanks to Ely Methodist Church for their help and technical assistance and for a warm welcome. £176.40 raised with a further £50 being donated via PayPal by a generous donor.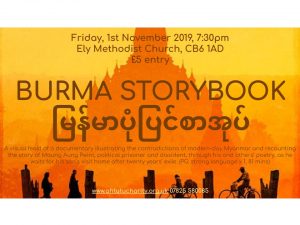 Saturday, 5th October 2019
Formal Myanmar Dinner. Super, super night with enough delicious, authentic food being superbly produced by Joan and Stella to feed the population of Broad St. Our thanks to St Peter's for their fine hall.
16th – 30th September 2019
Trustee/volunteer visit to Pathein to see updates on ongoing projects and work alongside KMSS colleagues
Thursday, 25th July 2019
Mary talked to Sue Marchant about Ahtutu on the Jeremy Sallis Show on BBC Radio Cambridgeshire at around 40.51 on the recording.
Friday, 19th July 2019
We showed Burma Storybook at Ely Lighthouse Auditorium, 7:30pm but experienced some technical hitches beyond our control. Watch this space for another showing. £118.70 raised. Thank you.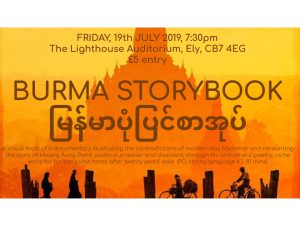 Sunday, 30th June 2019
Super Days for Girls Training Session for sewing and overlocking – thanks to Chris, Christine, Viv, Joan and Stella for coming and to my wonderful superstar, super sewer Aaf for keeping us all on the right path or seam! 🙂
Tuesday, 4th June 2019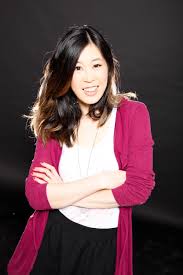 Excited to have met the wonderful, dynamic Foong (Wai Foong Ng of www.wearematchable.com) to talk about Ahtutu's work. Foong matches corporate skills with charities and we hope to work together in some way.
Saturday, 25th & Sunday, 26th May 2019
Ahtutu presenting to Sacred Heart and St Margaret's following their generous grant last year and today's unexpected donation of £151.12.
Friday, 17th May 2019
Myanmar Meal and Talk, St Etheldreda's Ely – Super evening once again. £180 raised.
Thursdays, 9th and 16th May 2019
Useful event with Trustees and Volunteers attending Charity Commission Training for High Risk Areas in London.
Friday, 10th to Sunday, 12th May 2019
Days for Girls Conference, Yarnfield, Staffs Utterly inspirational weekend, led by Celeste Mergens herself, affirming our involvement in this life-changing charity.
Saturday, 27th April 2019
Myanmar New Year Event, Camden School for Girls, Sandall Road, NW5 2DB, 2-7pm – £61.01 donated and lots of interest in our work. Super event. Thank you, NMAUK and all.
Sunday, 31st March 2019
Myanmar Talk and Meal, St Thomas Southborough, 11:30am – £186.18 donated.
Saturday, 30th March 2019
Days for Girls Training, Parish Rooms, 17 Egremont St, Ely, 10:30 – 2:30pm, lunch provided. Bring your sewing machine and overlocker. £175.20 donated from Aaf's Keep Fit Team, other donations and the sale of materials from Pathein.
Sunday, 24th March 2019
Trustees Meeting in Ely, 2pm UK Time, 9pm Cambodian Time
Monday, 11th March 2019
Lovely, welcoming group at March Trefoil Guild welcomed Mary who presented about her work with Ahtutu and was given a £30 donation.
Thursday, 7th March 2019
Successful overlocker training. Many thanks to Aaf for your supervision and expertise
Tuesday, 5th March 2019
Ahtutu becomes UK Registered Charity No 1182338
2nd – 20th January 2019
2019 team set off for Yangon. See January 2019 Blog and Video of our adventures.
Thursday, 27th December 2018
Beginning to pack. Water filters (thank you, Grifaid) and Days for Girls materials ready to go to Myanmar via Edinburgh.
Thursday, 20th December 2018 at 3:30pm
Our Annual Meeting was a useful opportunity to review what has happened over the last year and plan for the future.
Tuesday, 18th December 2018
We received confirmation that the Friends of Sacred Heart, Penicuik (parish of the school of which I was headteacher) and St Margaret's, Loanhead will support our funding of bunk beds at the Family Home Orphanage and our feeding programme at the Pre School in PKG village with a donation of £1500. Thank you so much, everyone!
Monday, 17th December 2018
It was a pleasure to meet the wonderfully enthusiastic Ian Harvey from Hills Road Sixth Form College, Cambridge, who does amazing work in Sierra Leone and has generously let us have his practical science programme for Myanmar. Thank you, Joan Wall, for introducing us.
Monday, 17th December 2018
Thank you to dear John Kennedy who has given another £100 for Grifaid Filters for Myanmar.
Sunday, 16th December 2018
Our sincere thanks go to an Ahtutu supporter who has given sewing lessons and donated a total of £530 to us along with lovely pieces of craftwork to be sold.
Tuesday, 4th December 2018
Charity Quiz for Myanmar at Bar Eleven A, Forehill, Ely CB7 4AA. What a super night! 40 people, great questions (a plethora of quizzes) and fab organisation from Viv and Keith Aggett. Terrific fun! Well done, the winning team Depleted (who were not very), followed closely by our own #teamtenor. £210 raised on the night and from donations. Thank you so much, everyone!
Friday, 30th November 2018
Our Myanmar Supper was a great success with 20 people coming along to do a little quiz, hear a short presentation and eat the most delicious food prepared by Joan, Stella, Katie, Danusia and me. Discussion was lively and a good time was had by all. £180 raised. Thank you, everyone, especially Fr Tony, Gerald, Ralph & Marion and all who came to support.
Thursday, 29th November 2018
We've now had three super workshops for DfG with our East Angles team boosted to another thirteen sewists. Thank you everyone but Aaf in particular. We have had to order more PUL and more flannel we have so many people joining the team. <3
Monday, 26th November 2018
A lovely response to our Myanmar Assembly from Ms Bassett and the children of Ely St John's this morning. My thanks to my glamorous assistant, Katie, and to everyone at ESJ.
Sunday, 25th November 2018
£426 raised at coffee mornings after both Masses over the last two Sundays and after 6:30pm on Saturday. Thank you, St Etheldreda parishioners who are so generous and genuinely interested, and to all my lovely helpers.
Tuesday, 20th November 2018
Final total for Ceilidh in the Cathedral was £2435.94 so £1217.97 for both Ahtutu and Together with Cambodia. Thank you so much, everyone.
Saturday, 17th November 2018
£288.13 raised at both Witchford Voices concerts today. Thank you very much, dear choir family.
Friday, 16th November 2018
Just checked the Grifaid website and found this which shows the photo and comments I sent to them. Nice photo, Fr Peter! 😀
Friday, 2nd November 2018
Touched and pleased to be given £25 by my lovely hairdresser, Simon Taylor, of The Salon, Poets House. He and his colleagues dressed up for Hallowe'en to raise money for a local charity and donated to Ahtutu. Thank you! <3
Thursday, 25th October 2018
Went to Portsmouth with Aaf Dawes to have some time with our Days for Girls mentor, Sandra Sherwood, an inspirational woman. We bought some great resources and have made many plans for the future….
Friday, 19th October 2018
Attended The Fabian Society meeting in Tunbridge Wells to hear John Clay speak very eloquently about Myanmar and the current political situation and spoke about Ahtutu's work and how I have found the country in recent months.
Monday, 8th October 2018
Chatted with a helpful person from the Charity Commission re our application since it is almost ten weeks since we applied. On the minus side, the application is likely to take a further six to eight weeks due to the high volume they have received. On the plus side, it has passed the initial scrutiny and they will help us to work with them to tailor the application so that it fits their requirements. December update: The Charity Commission sent a letter stating they are only now processing applications from May 2018. Sigh!
Friday, 28th September 2018
Super, successful Ceilidh at the Cathedral with Together with Cambodia, raising a total of £2435.94 for both charities!
Saturday, 22nd September 2018
Very positive feedback on our first Days for Girls East Angles event. Thank you so much, everyone.
Monday, 3rd September 2018
Found this fab quote from Cardinal Charles Maung Bo that I will use for an Ahtutu postcard with my beautiful Burmese madonna on the front –
"Education is a fundamental right. A deliberate policy of not educating our youngsters exposed them to modern forms of slavery in the nearby countries, to drug menace, to human trafficking. Youth is a wounded generation. True reconciliation is possible. We buried three generations of our people without a good education. I urge all concerned: … offer them the hope of a bright tomorrow through quality education."
His Eminence Cardinal Charles Maung Bo of Myanmar
August 31st 2018
See photos from our Nutrition Programme in Phan Khar Gone
August 22nd 2018
Ceilidh Raffle Tickets arrived.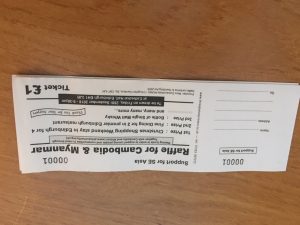 August 10th 2018
Ceilidh preparations made.
August 3rd 2018
Charity Commission application completed and submitted.
July 23rd 2018
Trustees' Meeting to confirm future plans for fundraising and managing projects
July 21st 2018
More than 2500 pages viewed and 500 new visitors at this website. Thank you.
July 17th 2018
Marketplace open for business.
July 13th 2018
Nutritious Khmer Rice Soup recipe passed to friends in Pathein and to KMSS for PKG and any other village that would like to use it. Thank you, Kate Mc and Cambodian friends, Betty, Fr Totet, Mai and Ratana!
July 11th 2018
Links between Phan Khar Gone ECCD and state schools and local Ely school under discussion.
July 4th 2018
Delighted to welcome Martin, whose father was a Burmese doctor, as a member of the team for January 2019.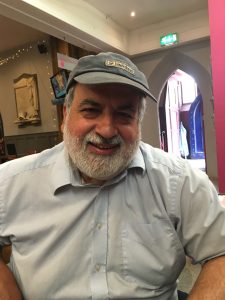 June 18th- 27th 2018
Mary to Myanmar for Trustee Visit – NEW BLOG
June 12th 2018
Thai Airways agree to give Mary a further 10kg baggage allowance for the June visit.
June 11th 2018
Days for Girls morning at Upton with Maria Brown and Aaf Dawes.
June 5th 2018
Venue and bands set for 28th September.
May 26th 2018
Grifaid Filters received.
May 7th 2018
Days for Girls meeting in Bury St Edmunds – thanks to Ian Boast in particular for his contacts and involvement
April 26 2018
Katie and Mary become DBS checkers for Ahtutu.
April 26 2018
Erica Utsi formally becomes Finance Manager. Our thanks to Tony Sigrist who steps down from being the second signatory and managing the funds.
April 21 2018
Trustees' Meeting to confirm future plans for fundraising and managing projects
April 19 2018
Family Home Orphanage Project completed
April 9 2018
Update on Family Home Orphanage Project – Thanks to Marcellinus for photos
April 1 2018
This website launched.
March 19 2018
Ahtutu Trustees' Meeting which confirms business plan and discusses future fundraising possibilities.
March 18 2018
HMRC send confirmation that Ahtutu is now a Charitable Company for tax purposes with effect from February 26th 2018.
March 2/3/4 2018
Mary attends the Cambridge Judge Business School Social Venture Weekend, formalising a business plan for Ahtutu and creating a pitch to put to potential donors and team members.
April 4th 2017
Ahtutu is born and the name and logo quickly approved by KMSS-Pathein.