What can you do to help? See Latest News for some ideas.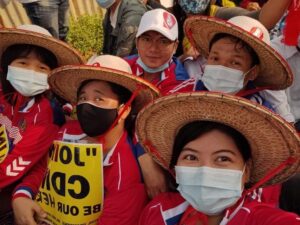 On this page we publish relevant media articles, etc. Ahtutu wishes to give information only. We are a non-political charity. We do not take responsibility for the views or commentary of the authors but we support our students and hope that one day soon we will be able to return to work with them in Myanmar.

.
In support of students and friends, Ahtutu has proudly documented the course of the military coup in Myanmar since it began on February 1st 2021, and continues to publish around 5 media articles each day.
.
Mary's Interview on BBC Radio Norfolk, 24th March 2021
More information on the Myanmar Coup and the country:
The Union of Catholic Asian News, Myanmar, is an excellent source of general news as well as a perspective on Christian and Catholic issues and events.
Myanmar Now is also a good source of information on the ground.
Mary subscribes to Frontier Myanmar, '
an unbiased voice in transitional Myanmar'

.
The Assistance Association of Political Prisoners in Burma is based in Mae Sot, Thailand (with offices in Rangoon and Mandalay) and keeps a tally of the people who have been taken into custody for political reasons.
The Myanmar Tatmadaw have their own Global New Light of Myanmar which presents the news from their unique perspective.
The UK Government have dedicated a page to Myanmar news.
MYANMAR COUP – JANUARY 2022 ARTICLES
MYANMAR COUP – DECEMBER 2021 ARTICLES
MYANMAR COUP – NOVEMBER 2021 ARTICLES
MYANMAR COUP – OCTOBER 2021 ARTICLES
MYANMAR COUP – SEPTEMBER 2021 ARTICLES
MYANMAR COUP – AUGUST 2021 ARTICLES
MYANMAR COUP – JULY 2021 MEDIA ARTICLES
MYANMAR COUP – JUNE 2021 MEDIA ARTICLES
MYANMAR COUP – MAY 2021 MEDIA ARTICLES
MYANMAR COUP – APRIL 2021 MEDIA ARTICLES
MYANMAR COUP – MARCH 2021 MEDIA ARTICLES
BENEDICT ROGERS
… has published his personal perceptions and views on recent events. Ben is an expert commentator on Myanmar and SE Asia.
In addition Ben is the SE Asia Analyst for CSW which fights for freedom of religious belief for all from a Christian perspective. CSW makes regular press releases to raise awareness of injustice.
February 3rd 2021: BURMA: THREE BUDDHIST MONKS ARRESTED AS CONCERNS FOR COUP IMPACT ON FREEDOM OF RELIGION OR BELIEF MOUNT
February 1st 2021: BURMA: CSW CALLS FOR IMMEDIATE RELEASE OF POLITICAL LEADERS, DIALOGUE BETWEEN PARTIES AND INTERNATIONAL SANCTIONS
TRAVEL LOGS, etc
The blogs are Mary's very personal perceptions and views from the trips she has done to Pathein. She has left the spellings etc as they were, in the older two blogs, even though she now knows better!
January 2019 Video (by Mat Lucky)
See the 'articles' section for descriptions of the work Ahtutu did in 2017 and January 2018 – sorry, too busy to blog!
ARTICLES & INTERVIEWS
February 2021 East Anglia Diocesan News
Spring 2019, pp14-15 Edinburgh Napier University Magazine
July 2019 Interview on BBC Radio Cambridgeshire at 40.51
September 2018 Edinburgh Reporter Article
Spring 2018 See pp10-11 Edinburgh Napier University Magazine
February 2018 From My Parish to Pathein
January 2018 Tony and Mary Talking FreELY
Our Children's World by the Class of 2018
Commentaries on the political and social situation in Myanmar kindly sent to Ahtutu by the wonderful Benedict Rogers:
December 2017 Christmas 1
December 2017 Christmas 2
July 2017 Diocese of East Anglia Website and Newspaper
Spring 2017 See p5, Edinburgh Napier University Magazine